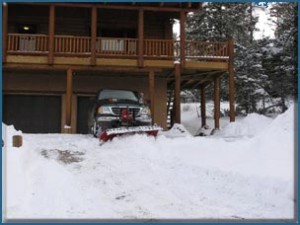 Angel Fire Snow Pushers offers a series of quality services for Angel Fire homeowners including snow removal, home repair and remodeling as well as absentee-owner services.
We know that for many, Angel Fire isn't home year-round. As the premier management company in Angel Fire, we care for properties of all types – from the cozy one-bedroom to the most prestigious multi-million dollar property, while owners are elsewhere.
Each property is cared for year-round. From snow plowing driveways to major home improvement projects we will arrange and supervise every detail so owners do not have to. Arranging key pickups or travel arrangements is a breeze and every task from the mundane to the extreme will be handled with care and diligence.
We recognize how important your real estate is to you and that is why AFSnowPushers devotes itself exclusively to the management of residential, vacation, and commercial property. Our main goal is to simplify the complex issues associated with managing your property while not only enhancing the value of your investment but also giving you peace of mind with our commitment to excellence. We strive to achieve optimal income by controlling costs and minimizing vacancy periods. Our services include:
Advertisement, marketing, and touring of available property
House checks for absent owners
Market survey and lease analysis to establish rental rates
Monthly and yearly financial statements and owner's disbursements
Periodic property inspections
Receipt and payment of all bills as specified by owner
Screening and interviewing of prospective tenants, ongoing tenant relations
Supervision and management of maintenance and service vendors
Tenant procurement for self-managed properties